No Comments
Assassin's Creed 3 Review
On

November 2, 2012

http://danjohnhobbs.co.uk/
Truth. Permission. Everything. Nothing. Period piece. Sci-fi epic. The birth of a nation. The end of a trilogy. Assassin's Creed 3 straddles the line between many things. It also straddles the line between good and bad. The vast majority of Connor's tale is some of the best Assassin's Creed has to offer, but there are little slips that pull you out of the experience and knock the game down a peg.
Assassin's Creed 3
(PC, PlayStation 3, Xbox 360)
Developer: Ubisoft
Publisher: Ubisoft
Released: October 31th, 2012
Ubisoft has prided itself on giving players a rich, detailed world in which to play around in. Combining this with incredible historical accuracy has led to some to some fantastic settings to explore. AC 3 is no different. The revolutionary north east of America provides yet another awesome place for the player to free-run around. The attention to detail is staggering, as is usual with the Creed games. There is breath-taking verticality, historically correct architecture and immersive, bustling streets. However, this time around, Ubisoft have added in the forested frontier and a beautiful ocean. The additions of these new environments brings about the first of a quite a few breaths of fresh air that really help raise the game above some previous entries in the series.
Similarly, the slice of history that the game puts you in helps give the franchise a new lease of life. Connor, the latest in the long line of assassins, is thrown into the most important points of American history, allowing the player to become a fly-on-the-wall. It's a very interesting part of history that could afford to create some important missions. And it does. Missions that allow the player to explore events like the 'Boston Tea Party' and 'The Battle Of Bunker Hill' are true standouts among missions of eavesdropping, tailing and high profile assassinations, missions types which have become staples of the franchise. The game also throws in some awesome naval battle segments, which are surprisingly fantastic but counteracted by mundane collectibles, viewpoints and fetch quests. The pure amount of stuff in the game is staggering, but because Assassin's Creed 3 is so large the epic missions are frequently outweighed by mundane content left over from previous games.
There is breath-taking verticality, historically correct architecture and immersive, bustling streets
Your assassins animus has been given a firmware update, which has, in turn, given Ubisoft creative license to change the way you play the game. The free running and fighting has been simplified and, as a result, honed to near perfection. Scaling a rock face or bouncing across treetops is just a easy as climbing a building. It feels just good and, if you played with the Creed before, you'll pick it up very easily. Combat has been simplified as well. It is still very much a parry, counter, attack based system, but leaps and bounds more satisfying with gruesome new kill animations and a ton of weapons, the tomahawk being this reviewer's favourite. Large groups of bad guys are a lot easier to deal with and taking down three enemies at once – with a single button – is the most badass I've felt in a video game in a long time.
Of course the key to playing Assassin's Creed properly is remaining hidden. Creeping through an enemy encampment is far more thrilling than engaging in a large scale brawl, but the option to slice up bad guys is always there because nailing that stealth section is damn hard.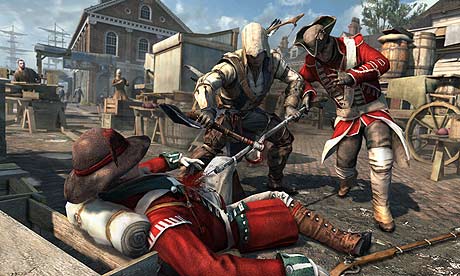 The gameplay is also where the game falls flat. For the last four games, I've given AC a free pass on niggling issues with gameplay. As this is the fifth console release for the series, I was hoping that they would have been fixed. Sadly, they haven't. The problem arises as the player has one button for all free running moves. Numerous times throughout the game I would be sprint across the environment only for the game to decide I wanted to go in the opposite direction. I would try to escape down an alley only for Conner to think it was a good time to hug a wall. It's plain annoying, but when you do pull off a daring escape, the feeling of superiority returns and all is forgiven.
The AI for both friend and foe also has annoying issues. If I slaughter all but one of a troop of redcoats, you would expect the lone survivor to think that something was amiss. Instead, he goes, "Oh, must have been the wind". However, when I bump into a civilian, I would not expect much to happen instead of half of the British army to chase me down. Friendly AI is not great either. Recruits in your assassins guild sometimes just stand around as they are getting seven shades of shit beaten out of them and NPCs that follow you sometimes just stop, leading to a mission fail as you are not allowed to leave them behind.
The story follows the aforementioned Connor throughout his entire life as he goes from orphaned native American child to fully fledged frontier ass-kicker (even though he sometimes feels like a glorified errand boy), stopping at every big revolutionary battle along the way. Of course there are segments where you take control of the series main protagonist Desmond Miles. AC 3 gives you more Desmond than ever before, but talking about it would make the spoiler nuts go crazy…So I'll shh.
While Conner is not as charming as Ezio, I still felt warmed towards him. He has a sense of purpose and a clear motivations to destroy the people that ruined his life. Over the lengthy campaign you'll see him go from naïve youngster to downtrodden old man, with almost every state of man in between. Conner and his band of merry men never storm blindly into battle. He questions decisions and builds his own plan giving the player less of a go there do this feeling.  It's the interplay between the characters and the crossed motivations between them that really make the story stand out to me. All of the writing is excellent, with fantastic voice actors bringing life to each character. The back and forward between Connor and the character of Haytham, and between Charles Lee and Thomas Hickey is excellent. Haytham, overall, is a fantastic character. You never are sure of where his allegiances lie, you are never quite sure what his motivation is and some of his one liners are pure class. A thousand pardons.
As before, the good comes with the bad. The pacing of the story is really quite off. The opening tunnels you down a linear route and lasts just a little too long. The middle third of the game seems to whiz by, not really settling in any location of character. The ending, however, is perfect built up and the final stand off with final boss character is suitably mute. By switching round some missions and changing the lengths of some sections could have really given a story a slow and satisfying build towards the end.
AC 3 gives you more Desmond than ever before, but talking about it would make the spoiler nuts go crazy…So I'll shh.
The size, scale and scope of Assassin's Creed 3 is really here the game begins to undo. Like I've said before, the sheer amount of stuff in the game is staggering but with all this comes a hellish amount of bugs. Guns floating in walls. Horses having fits and characters stopping mid scripted action. Numerous frame rate drops, lots of pop in and the occasional graphical glitch ruin the experience. I can't help thinking the omnipresent fog that surrounds the north east of the United States is not for atmosphere but more to hide technical limitations. The loading times are reasonably hefty and the day one patch, that promised to fix these things, barely helped. It's a constant problem throughout the game that pulls you away from Connor's story. Two hard crashes in one playthrough is a problem that should not happen.
Mutliplayer is back in this latest installment and it's bigger than it ever was before. Numerous outlets have said it's an unexpected pleasure… And they're right. In a world where multiplayer is ruled by the first person shooter, it's nice to see something else out in the marketplace. The running and stabbing mechanics of the single player fit well in the a multiplayer setting. The new Wolf pack mode, where you cooperatively work together to kill NPC targets is fun, but it's the Assassinate mode that really grabs you. The hunter becomes the hunted mechanics have always appealed to me, especially as a fan of the Metal Gear games. You attempt to identify targets and assassinate them, while trying to remain inconspicuous yourself. It a fantastic mix of deception, astute moves and sudden violence that keeps it exciting. Ubisoft has even thrown in a story into the multiplayer to keep players on the hook.
Overall, Assassin's Creed 3 is a fantastic experience that provides closure to five games worth of story. If you pull yourself past the bugs and annoying AC ticks then it is a fantastic experience. It's largely enjoyable, although not entirely consistent. The linear sections really undermine the core openworld ethos that the Creed games have had since the beginning. There one too many bugs, strange AI behaviours, annoying controls and the Desmond story, well, it's a bit crazy to say the least. It suffers from the same problems that have plagued the previous entries in the series and doesn't offer a tremendous upgrade. However, it is up there as the one the best in the series so far – even if it doesn't quite top that list.