No Comments
Beyond: Two Souls Review
David Cage has been chasing his dream of creating a cinematic experience which blurs the line between game and film for almost 10 years now. Fahrenheit (Indigo Prophecy) was his first attempt in 2005 and it was enough to convince Sony to shell out millions to develop Heavy Rain and the studio's latest project – Beyond: Two Souls.
While Quantic Dream's previous games are wildly different in terms of themes, the mechanics behind them share a lot of the same DNA. There will be quick time events and moving your character will feel like wading through concrete that is just about to set. Those elements are all still present and accounted for in Beyond, but its the most refined version so far.
Beyond is the story of Jodie Holmes (Ellen Page) and the two souls the title refers to is her link with the mysterious entity called Aiden (yeah, it's not pronounced how you'd think). Jodie has been attached to Aiden since birth and hitting triangle switches play between third person as Jodie and first person as the poltergeist.
The freedom of movement you get as Aiden and the interplay between the two characters is what makes Beyond particularly unique. Aiden can float through walls and manipulate objects in the environment as well as heal, possess and even force choke foes to death. Fancy a spot of Vulcan mind melding with the dead? Aiden can help Jodie do that too. You'll be switching between the two characters to solve environmental puzzles and ghost yourself out of danger and it feels unique.
It's possible to tackle the story in co-op mode, with one person taking control of Jodie and the other Aiden, either through two PS3 controllers or using an iPad or iPhone and it's well worth trying out. You can download an app called Beyond: Touch which links up with the PS3 via wifi. It's really easy to do and always worked seamlessly.
Going the co-op route does lend itself well to the conflict between Jodie and Aiden. Their motivations don't always align and handing off that control to another person helps to add a bit of tension and mischievousness to the gameplay.
Navigating Beyond via iPad can be a real nightmare at times though. Possessing and then controlling a character in third person is a massive pain in the arse and usually results in characters doing the equivalent of trying to figure out which direction they're facing on Google Maps in the centre of an unfamiliar city, spinning in circles and running head first into walls. So inconspicuous. You'll most likely be left shouting at the TV due to Aiden's utter incompetence.
There are benefits with the iPad control though. Navigating across huge rooms and vantage points as Aiden is much easier and faster than using the PS3 controller, with a quick double tap on the tablet sending you flying across an environment to a fixed point. A quick swipe left or right spins the camera to a fixed point and a double tap on glowing blue objects will let you flick or smash them, while glowing orange humans indicate that you can possess them or kill them if their aura gives off a red glow.
Movement in third person as Jodie via the PS3 controller is much improved in comparison to Heavy Rain, as you're given free control to move Jodie around environments (you no longer have to hold R2 to walk). The intrusion of on screen button prompts are kept to a minimum with small white dots indicating that you can interact with something if you push the right thumbstick towards it.
Beyond is pretty jam packed with action sequences and the way Quantic Dream has handled these does add a small element of skill to proceedings. If Jodie is in a fight or sprinting through exploding buildings time slows and all that's required is a thumbstick push in the direction of the action which makes sense on screen. If Jodie's fist is flying towards someone's face, help that skinny left hook connect with a push to the left. If Jodie is about to get stabbed with a knife, swing yourself out of the way. I did say it's just an element of skill. It's not particularly challenging, but it does at least keep the eyes on the action rather than squinting to see whether you should have hit X or O at the right time. If you're not into quick time events, you should really know better than to start playing a Quantic Dream game.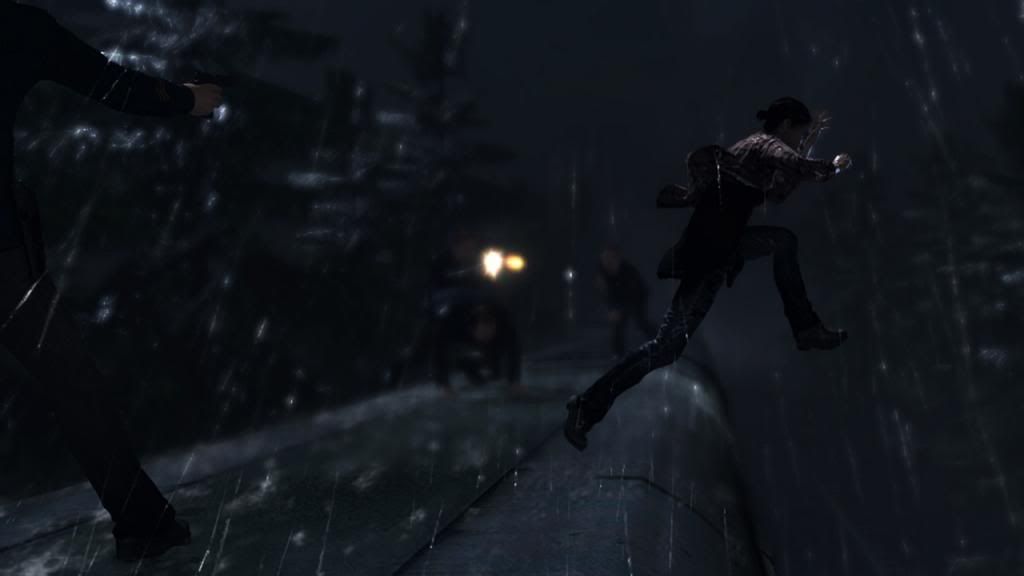 Experimentation with Aiden's ghost-like abilities are encouraged, but there's usually not a huge amount that can be done to steer situations wildly from the "story on rails" feeling you get as you play out different scenarios. There's a bit of variation with the dialogue options and with how events unfold and Quantic Dream do a good job of smoothing over the joins to hide the your lack of influence on how the narrative plays out, but the actual amount of options open to you for how you want to approach a situation or progress through a level is fairly limited. You will have to make choices throughout the game, but they're not as frequent or as hard hitting as you might be expecting.
There's no HUD, there's no health bar and every effort is made to keep the game screen clear of any indication that you're playing a game at all. Stop sniggering at the back.
The line between game and film is certainly blurred and whether that's going to work for you rests on Ellen Page's shoulders. Her portrayal of Jodie from unruly teenager to weary adult carries the game. Her performance capture work and dialogue is convincing and the amount of times she breaks down in tears demonstrates how committed she was to the role.
The movement and facial expressions of central characters look absolutely stunning and its leagues away from the uncanny valley of Heavy Rain. The impressive visuals extend beyond character models too. Quantic Dream have really pushed the PS3 to the limit with Jodie's adventures across the US and the globe creating a great excuse to offer a variety of locations to play around in, from teenage parties and dinner dates, to desert warfare and horse riding in the Arizona desert. The lighting and shadow effects are seriously impressive and it's a world away from the relentless grey of Heavy Rain.
It's just a shame the story never really engages to the same level as the sort of films Cage quite obviously admires so much. Jodie is a strong female character, with shades of Ellen Ripley, but an unconvincing central romance is particularly grating. You'll see the final act reveal coming from a mile away and while Page's delivery is always convincing, it doesn't stop some of the dialogue from feeling slightly embarrassing. Jodie is well developed and characters like Willem Dafoe's Nathan Dawkins and Kadeem Hardison's Cole Freeman are given a bit more to chew on as Jodie's doctors and surrogate father figures, the rest of the cast are under developed cardboard cutouts. Cage's script never reaches the sort of emotional honesty of work like Naughty Dog's The Last of Us and the central story can't lift itself above the level of a mid-tier sci-fi flick.
Quantic Dream has pushed performance capture and refined quick time heavy gameplay to a point above any other game. There are elements to Beyond's gameplay which you won't have experienced in a game before and that's rare in a market full of sequels and unoriginal ideas. While the sci-fi and horror elements of the story are fairly cliched, there is enjoyment to be found along the way, particularly when playing in co-op mode and the sheer variety of situations you find yourself in keep things fresh throughout the 12 hour story. However, if you've never been convinced by David Cage's previous attempts at 'interactive fiction', Beyond is unlikely to convert you and the game must ultimately be judged on the strength of its story which falls short of what the best in the industry can offer.
Beyond: Two Souls Is Out Now On Playstation 3. Reviewed Using Retail Copy Purchased By Reviewer.