One Comment
Tales From Space: Mutant Blobs Attack Review
On

February 29, 2012

http://danjohnhobbs.co.uk/
Back just a couple of weeks ago if you had mentioned the name Tales From Space: Mutant Blobs Attack to me I would have instantly thought of a god awful Sy-Fy channel movie, something akin to Mega Shark vs Giant Octopus. But now, Mutant Blobs Attack is the best video game of the year so far. 
Tales From Space: Mutant Blobs Attack is a sidescrolling puzzle platformer. You play as Mutant Blob fresh from his escape from an evil science lab. He/She/It rolls along from lab to town to city, via the moon, saving its blobular buddies and absorbing everything in its path – Katamari style. As you move across the environment, using the stick or d-pad, environmental puzzles will stop the blob and force it to use its mutant skill set to continue. Jetpacks, magnetize rays, pressurized tubes and lasers are all used often, but refreshingly. The is something new in every level of Mutant Blobs Attacks; you'll want to miss your stop on the bus just to play it a little more.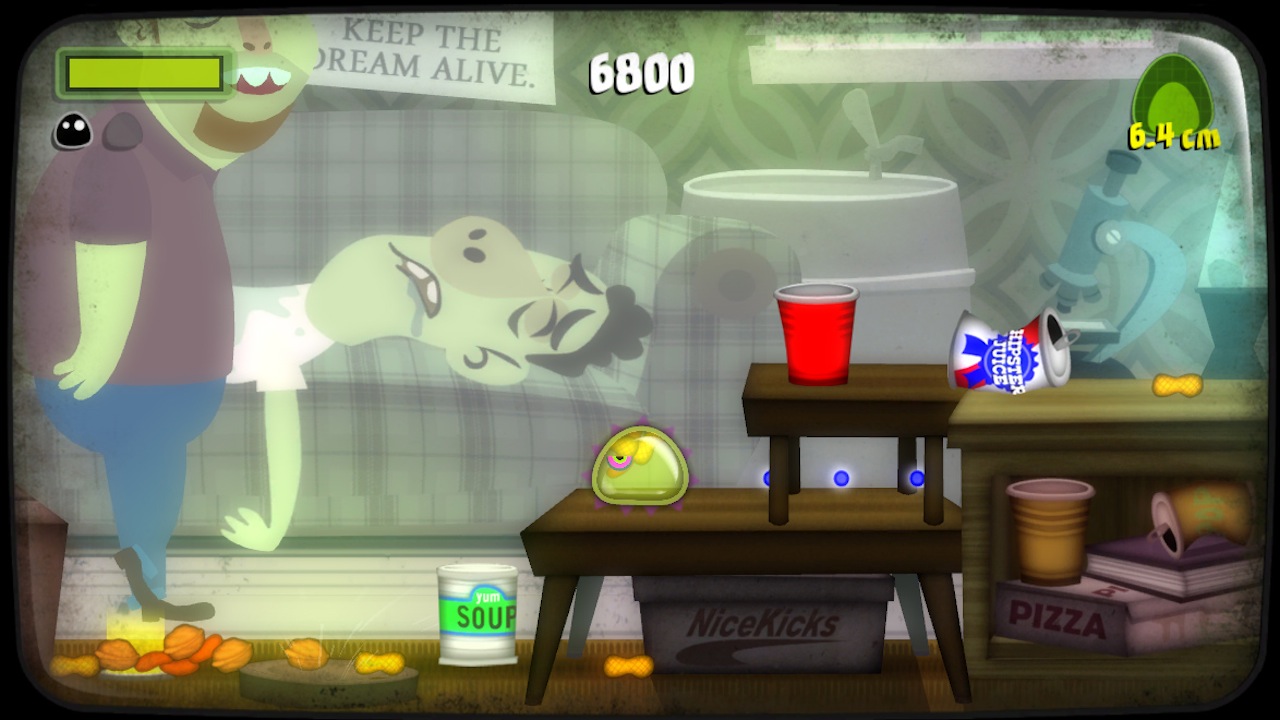 As the blob you will roll over everything you pass, whether that be everyday objects, debris, houses or even people. The more you eat, the larger you grow and the easier and quicker it is to move across the levels. The bigger you get, the more satisfying it is to lay waste to an entire skyline. You'll find yourself cheering for the blob as he escapes, despite the fact that you may have just destroyed an entire civilisation.
The sound and art direction is incredibly sweet. From the way the blob quivers in reaction to being hit by a laser or a solider squeals just before he gets assimilated into you, the charm is just fantastic. It boasts a pseudo 1950′s TV-esque filter over the bright colours that really pop on the 5 inch OLED screen. However, the soundtrack is rather forgettable. There is a lack of dialogue, or even subtitles, in the between level cutscenes and the lack of vibrant in-game music leave the game losing some the personality that it builds throughout the rest of the experience. It's there, but not excelling at it's full capacity.
The price, length and replayability are really what makes this game. It's less than £6 ($8), a perfect handheld price for the paupers who have just brought a £270 handheld. The over 30 levels are less than five minutes long, again, perfect for a quick bus ride, but the leaderboard, collectables and medals will keep me dropping in every so often until it's 100 percented.